Latest Sport Gist :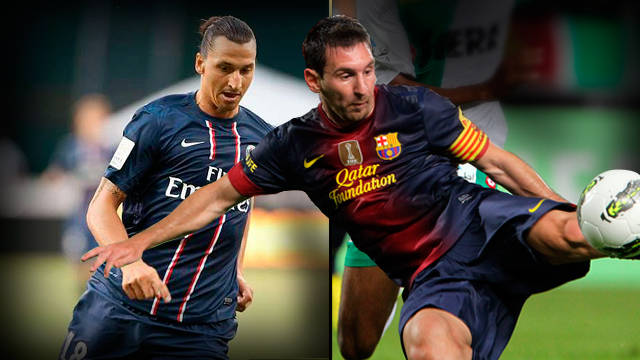 Its Ibracadabra Versus Messi-less Tonight
As PSG face greatest test with Barcelona.
Qatari-backed Paris St Germain's mission to be considered one of Europe's top clubs faces its toughest test yet when they host Barcelona in an intriguing Champions League quarter-final first leg tonight.
Barcelona, having recovered from a first-leg stumble in their last-16 tie against AC Milan to qualify for the last eight 4-2 on aggregate, are widely considered favourites to win the trophy for the fourth time in eight seasons at Wembley in May.
PSG, who saw off Valencia in the last 16, believe however that this could be a turning point in their climb to the peak of the European game.
The wealthy French club, under experienced coach Carlo Ancelotti, are on course for their first domestic title for 18 years as well as being in the last eight of the Champions League after an 18-year absence.
They go into Tuesday's tie, however, as underdogs for the first time this season – and will do well to survive it.
Qatari fund QSI has set PSG a tough agenda of winning the Champions League within five years, having bought the club last year and poured huge amounts of money into transfers to build a team made for Europe.
Centre back Thiago Silva, front man Zlatan Ibrahimovic and forward Ezequiel Lavezzi, who all signed last year, have been key in helping PSG reach this stage, and at least they have a good omen on their side.
The last time they reached the quarter-finals in 1995, they beat Barcelona but much has changed since. PSG have been absent while Barcelona have been crowned European champions three times.
Thiago Silva said the tie was "the game we all were dreaming about" and the expensively purchased trio will have to raise their level to the heights if PSG are to stand any chance of winning.
Latest signing David Beckham, who joined them on a five-month deal in January, believes they can meet these expectations.
"This club have high aspirations. We want to go as far as we can in all competitions," the former England captain told reporters after the Ligue 1 home win over champions Montpellier on Friday.
"It's obvious that we have the players for it. There's no doubt we have the mentality. Now, it's up to us to prove it on the pitch.
"Or course, it will hard, but very exciting too," added Beckham.
PSG's chances were boosted when Ibrahimovic was freed to face his former club after the two-match ban imposed following his dismissal at Valencia was halved.
"It changes the deal," midfield Clement Chantome said.
VILANOVA RETURNS
Ibrahimovic had a mixed year-long spell at Barca but said facing them again would not pose any problems for him.
"I have already played against Barcelona since I left and the game will be special for everybody here," said the Swede, who faced his former team mates in the group stage with AC Milan in 2011.
"How to beat them is the question. We will need to stay focused and the coach will probably set up specific tactics to block the best team in the world."
While PSG will bank on Ancelotti's tactical expertise, his Barcelona counterpart Tito Vilanova could return to the dugout for the first time after two months in New York receiving cancer treatment during which his assistant Jordi Roura has been in charge.
Vilanova flew back to Barcelona last week and took training on Friday but did not travel with the side to Vigo on Saturday.
The La Liga leaders maintained their 13-point advantage over Real Madrid at the top of the standings, with nine games left to play, but were disappointed to concede a late equaliser despite having fielded a weakened side.
World Player of the Year Lionel Messi set up the first and scored the second to complete a run of netting in 19 successive league games, against every team in La Liga consecutively.
Vilanova called up Jordi Alba and Xavi, who missed Saturday's game but have both recovered from hamstring strains they suffered while on international duty with Spain.
Captain Carles Puyol and Adriano Correia are out injured and, with forward Pedro suspended, Cristian Tello could feature in Paris. The pacy 21-year-old winger scored Barca's first against Celta and set up the second for Messi.
Barça's preseason moves into a new phase tonight. After the friendlies in Hamburg and Tangiers, they are now in action in the French capital. The opposition is París Saint-Germain, one of the most talked about teams in European football right now after their spectacular spending spree this summer. It all makes for a terrific test for Tito Vilanova, who finally has almost his entire first team squad to work with.
Awaited returns
The players that won the European Championship for Spain, and also those that appeared in the Olympic Games, apart from Jordi Alba, have been included in the squad for the first time this season. Also back is Carles Puyol, shortly after he was declared fully fit. But Adriano will not be travelling to France after spraining his ankle. That means there will be 17 first team players in the squad, joined by 5 from the reserves (Tello, Sergi Roberto, Rafinha, Planas and Ilie).
This will be the first time that Vilanova has been able to manage what is almost a full strength squad. And he only has two more friendlies after this one before the season commences in earnest with the opening Liga fixture against Real Sociedad.
French ambition
Paris Saint-Germain, meanwhile, are immersed in a major project to transform the club into one of the prominent forces in European football. They have spent big this summer to bring in new players of the calibre of Lavezzi, Thiago Silva and Ibrahimovic. The Swede is one of three former Barça players now under the orders of Carlo Ancelotti, along with Maxwell and the injured Motta.
Nineties memories
Tonight's clash will bring back memories of some classic encounters between PSG and Barça in the nineties. The French side was the opposition on the night that FC Barcelona won its fourth Cups Winners Cup in Rotterdam on 1997. But two years later, the Parisians got their revenge by knocking Barcelona out of the Champions League at the quarter final stage in a gripping pair of games.
Teams (probable):
Paris St Germain:
30-Salvatore Sirigu;
26-Christophe Jallet, 2-Thiago Silva, 13-Alex, 17-Maxwell;
29-Lucas, 24-Marco Verratti, 14-Blaise Matuidi,
27-Javier Pastore;
18-Zlatan Ibrahimovic, 11-Ezequiel Lavezzi
Barcelona:
1-Victor Valdes;
2-Dani Alves, 3-Gerard Pique, 14-Javier Mascherano, 18-Jordi Alba;
16-Sergio Busquets, 6-Xavi, 8-Andres Iniesta;
4-Cesc Fabregas, 10-Lionel Messi, 7-David Villa.